---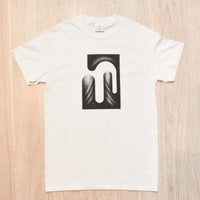 In case you missed the Scooters for Peace pop-up before the opening of Barry McGee: SB Mid Summer Intensive, MCASB has acquired a limited quantity of tees, totes, and tenuguis. Grab yours now!
Barry McGee invited owner of Scooters for Peace, Noriyuki Ushio, to create a pop-up shop featuring limited edition works designed by Bay Area artists, as well as handcrafted Japanese items and vintage goods, prior to the opening of his show at MCASB. Learn more about Scooters for Peace.
Francesco Igory Deiana T Shirt
Acquired in conjunction with Barry McGee: SB Mid Summer Intensive, a solo exhibition featuring a sprawling installation of paintings, drawings, and sculptural objects by San Francisco, CA-based artist Barry McGee at Museum of Contemporary Art Santa Barbara during summer 2018.
Special thanks to our sponsor Scooters for Peace. 
Due to the limited nature of this product, we will sell a maximum of 1 shirt per customer.