---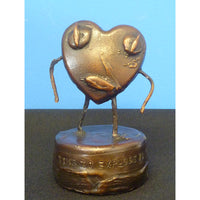 the time to explode is now by highly collectible artist Jon Pylypchuk displays the artist's characteristic style, combining the lovable and pathetic. Made of solid bronze, this high-quality artwork is a wonderful addition to any collection and makes a great gift. Only 6 remain of this limited edition of 30 and all funds raised support MCASB exhibitions. Pylypchuk is a Canadian painter and sculptor who lives and works in Los Angeles. Pylypchuk's work was featured in the 2012 MCASB exhibition Flights from Wonder.
Jon Pylypchuk, the time to explode is now, 2012, Bronze, 4 1/8 in.
Commissioned by MCASB (formerly Santa Barbara Contemporary Arts Forum)
Courtesy the Artist and International Art Objects
*We will contact you to arrange for shipping. Artwork transport may require crating or extra insurance. You may also pick up the item at the

 

museum.